SHARON FOGARTY DANCE THEATRE
Uses dancers who act/sing or play a musical instrument to create original off & off-off broadway plays. So far these have been "Poor Jayne & Her Rich Life", "Making Light", "Dances for a Small Planet," "Bride of Frankenstein ~ an experiment in intimacy", "Feminine Monsters Throughout History" and most recently, 'heaven'.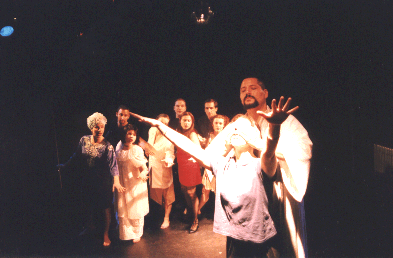 (photos on this site by Ian de Planque. Thanks Ian!!!)
Above is a shot from 'heaven.' Josephine (Fogarty) the choreographer is being sent back to earth by the angel, Rory DeSoto. In the background are Jason Grossman, Katie Workum, Kelly Sue DeConnick, Al Quagliata, Jason Hefter, Jennifer Tarrazi-Scully, Leigh Garrett and Renee Torriere.
'heaven' is scheduled to appear June 1-10, 2000 at Manhattan Theatre Source which is a great new theatre space run by Andrew Frank (Flophouse) on MacDougal Street, just south of 8th Street in NYC.

In Fall of 2000, premiering will be "Next to Nothing" which will feature several patients in a mental hospital whose view of life is so groundbreaking that they can almost lure the professionals down the path of insanity with them. It is difficult to tell which lives are saner, that of the doctors and technicians, or that of these wayward women who cannot function as part of the system.
Tripod MP3 Search
Artist or Song Name: